Stock No.MA70 - Limited to 500 units 3.0GT Turbo A/YSR tuned 3.1L & TO4S turbine/480PS
Rare! YSR Tuning, 3.1L Fully Balanced E/G & HKS TO4S, Exhaust, Drive, Cooling, 480PS!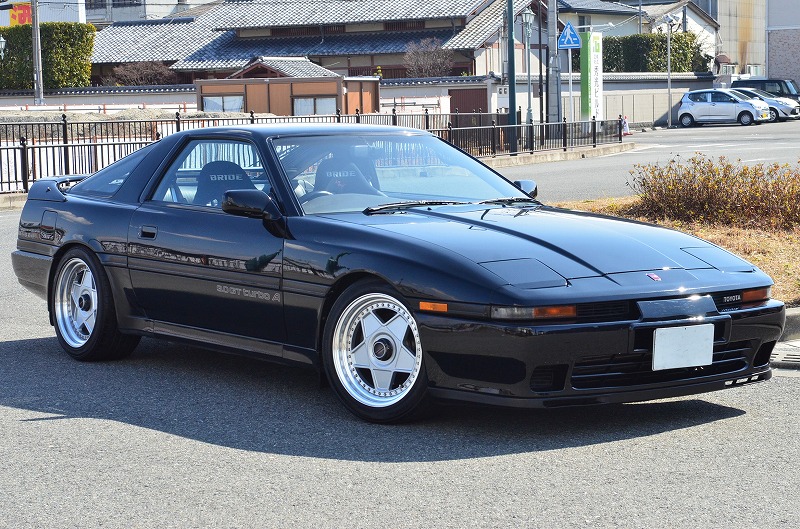 Grade

Limited to 500 units SUPRA 3.0 GT TURBO-A

Year

1988 model

Mileage

156680KM

Color

black

Price

SOLDOUT
Description
This time, I would like to introduce you to a car that is
This is a rare 500 units limited SUPRA 3.0GT TURBO A YSR tuned 3.1L HKS TO4S turbine 480PS specification.
The car has been carefully owned for 30 years since 1991, and has enjoyed maintenance and tuning, and is in excellent condition.
The car was tuned by YSR at about 120,000km with full balancing and O/H. After that, the power was further increased by adding turbine and cooling.
Currently, YSR has closed their store and REDFIELD continues to provide maintenance and re-setting services.
Vehicle Information
◇ ◇◇ Car details & modification details ◇◇ ◇◇

□ ☆☆☆Car Details ☆☆☆ □
Year: 1988
Car Name TOYOTA SUPRA
Grade Limited 500 units 3.0GT Turbo A
Mileage 156680KM K's dial processing replacement
No Repair
No inspection
Complete with invoice for engine build and other tuning.
There are genuine leather seats on both sides.

□ ☆☆☆ Modification details ☆☆☆ □
The engine has about 30000km after production. 
Cosworth Forged Pistons
Piston and connecting rod balancing
Cylinder surface grinding and dummy head boring
85mm diameter 1.5t head metal gasket
Cylinder head port & combustion chamber modification
Stock Parent & Child Metal
ULTRA plug cord 

Turbine
HKS TO4S Turbine
YSR Original Exhaust Manifold
TRUST TYPE-C Waist Gate

Fuel
SARD 700 cc fuel injector
SARD fuel regulator
GT-R fuel pump & regulator

Intake & exhaust
YSR Original Intake Pipe KIT
HKS Blow-off valve
YSR original muffler

Cooling
TRUST 16-stage oil cooler
BLITZ Intercooler for GT-R
YSR Intercooler Pipe

Drive and suspension
New Transmission 
OS Giken Twin Plate Clutch
YSR Original Final Gear
Rr LSD
Bilstein Dampers KIT
Fr suspension member, reinforcement, collar
Steering gear box replacement
Lower ball joint replaced
Rr new suspension member
YSR rear member collar
New rear knuckle joint

Brakes
F&R TSR Original Slit Brake Rotors
ENDLESS Brake Pads

Instrument
K's 300KM Meter
TRUST Exhaust Temp Gauge
TRUST Boost Gauge
TRUST Water Temp Gauge
TRUST Oil Temp Gauge


Controller & CPU
TRUST Prophec B Spec 2
TRUST e-manage REDFIELD On-board Setting
HKS Turbo Timer

Exterior
RED FIELD Door Mirror Covers
AUT STRADA MODENA Fr9Jx17+44 Rr9.5Jx17+38

Interior - Stock Seats
BRIDE STRADIA Reclining Bucket Seats (Carbon Back)
MOMO Steering Wheel
TOYOTA ETC