Stock No.collections  SOLD
NISSAN GT-R R35NISMO N-Attack Package B-KIT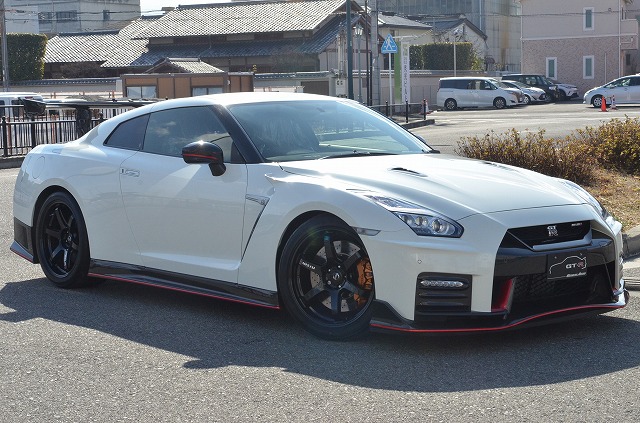 Grade

N-Attack Package B-KIT

Year

2017

Color

Brilliant white pearl
Description
MY17 model R35GT-R NISMO N-attack Package B-KIT is now in stock.
After purchasing the NISMO R35GT-R, we decided to add this package to the vehicle.
After purchasing the new car, it was stored indoors and not used in the rain, so the interior of the new car is still cured.
What is the N-Attack Package?
This is a super special package developed by NISMO and the NISMO Omori Factory based on the R35 NISMO N-attack vehicle that ran an amazing 7 minutes 8.679 seconds at the Nurburgring circuit in Germany.
The A-KIT has a special LSD, bucket seats, and seats for two people, and is designed for a more serious time attack. Based on the A-KIT, this is a 4-seater KIT designed for everyday use.
There are only a few new cars on the market, and they are rarely found in this condition, so there is no doubt that this is one car that will fetch a premium in the future.
Vehicle Information
Year: 2017
Car name NISSAN GT-R
Grade R35 GT-R NISMO N-Attack Package B-KIT
Mileage 1672km
Color Brilliant White Pearl
No repairs
Inspection February 11, 2022
Equipped with maintenance manual, record book, warranty card, instruction manual and 2 smart keys.
New 1 owner vehicle, stored indoors, never used in the rain.
Complete with NISMO N-Attack Package installation certificate, warranty card, manual, and contract.

Others
Data System TV-KIT

Standard equipment
Carwings navigation system (8-inch wide, hands-free phone, VICS (FM multiplex) voice command, Blutooth support, music box, USB connection, IPOD support, DVD playback function, TV tuner (full-seg), built-in ETC, color rearview monitor)
BOSE sound system (11 speakers), Thatcham European Category II approved vehicle security system (intrusion sensor, vehicle tilt sensor, wheel lock nut, siren unit, audio link), variable valve titanium alloy muffler

OP Details
NISMO exclusive floor mats, privacy glass, LED Hyper Delight Cancel Switch


Maintenance history
February 23, 2009 254KM
June 1, 2017 626KM
November 24, 2017 700KM
January 14, 2018 714KM N-Attack Package installation
February 9, 2008 749KM
June 25, 2008 891KM
January 13, 2020 1197KM
June 19, 2020 1267KM
January 15, 2021 1430KM
October 23, 2021 1518KM
January 8, 2022 1597KM

NISMO Special Details: ・・・・NISMO N-Attack Package details are listed at the end of this page.

Interior
NISMO exclusive carbon-backed bucket seats
Genuine leather combination seats with carbon back
NISMO exclusive Alcantara wrapped steering wheel (with red center mark)
NISMO exclusive Alcantara meter lid
NISMO exclusive shift gate finisher
NISMO exclusive carbon combination meter (with RED ring)

Aerodynamics
NISMO exclusive carbon fiber front bumper
NISMO exclusive carbon fiber under cover
NISMO exclusive carbon fiber side sill protectors
NISMO exclusive carbon rear bumper
NISMO exclusive carbon rear spoiler
NISMO Exclusive Oil Cooler Air Inlet Section

BODY
NISMO exclusive bonding body
NISMO exclusive dry carbon trunk lid

Engine
NISMO exclusive engine cover
NISMO Exclusive GT3 Turbine
NISMO Fuel Pump
NISMO exclusive titanium alloy muffler (with electronic control valve)

Suspension
Exclusive Raise forged aluminum wheels
Newly shaped rims and spokes for NISMO
Exclusive suspension

NISMO N-Attack Package B-KIT installation details
Engine & Powertrain
Exclusive ECM & TCM
Suspension & Brakes
OHLINS ride height adjustment system, 4-way damping force adjustment
Exclusive Sway bar (Roll stiffness adjustable type)
Exclusive brake pads (with new friction material)
Exterior
Exclusive carbon front fender (dry carbon, with flick)
Exclusive front add-on spoiler
Exclusive carbon rear wing (wings made of dry carbon, legs made of aluminum + dry carbon cover, with height adjustment function (2 steps) and angle adjustment type (12 steps))