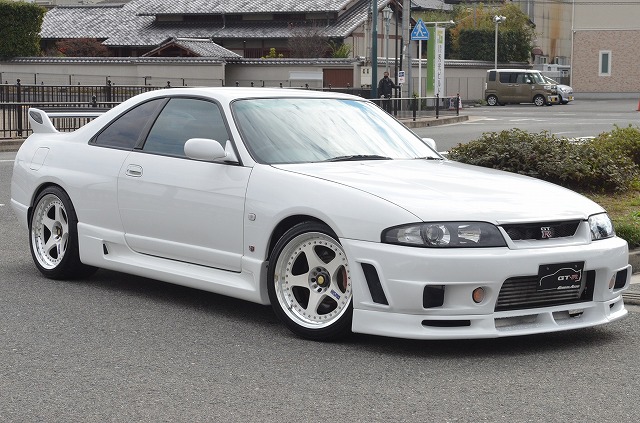 Grade

V-SPEC N1 #7/21

Year

1996

Color

white
Description
Rare BCNR33 Skyline GT-R V-SPEC N1
This is a 1 owner 28,000KM light tuning car.
The car has been carefully owned since new and has been tuned so as not to destroy the concept of the N1. The exhaust, suspension, and braking systems are well balanced.
The transmission is a brand new genuine BNR34 GT-R Getrag transmission, and it has been officially certified.
Vehicle Information
Year Model year 1996
Vehicle name Skyline GT-R
Grade V-SPEC N1 #7/21
Color White
Mileage 28731KM
No Restoration
No Inspection
1 Owner Vehicle
Maintenance Manual, Record Book, Warranty, Manual, Main Logo Key, Spare Key
CLIFFORD Security System (2 remotes)

Other Details
Stock Engine
BNR34 GT-R Engine Ornament

Cooling System
Stock OP NISMO Intercooler
HKS Intercooler Piping KIT
NISMO Water Cooled OIL Cooler KIT
Silicone Radiator Hose

Exhaust
FUJITSUBO Equal Length Front Pipe
NISMO Sports Catalyzer
REIMAX Stainless Steel 2-pipe Muffler

Drivetrain and Suspension
BNR34GT-R, Stock Getrag Transmission, Certified
EXCEDY Carbon Twin Plate Clutch
DriveShaftShop Carbon Fiber Propeller Shaft
NISMO Solid Shift
OHLINS Separate Tank Type Ride Height Adjustment KIT
NISMO Front Upper Arm
NISMO Front Lower Arm
CUSCO Pillow Tension Rods
NISMO Rear Upper Arm (Front)
NISMO Rear Upper Arm (Rear)
NISMO Rear Lower A Arm

Body Related
NISMO Titanium Tower Bar
NISMO Rear Member Brace

Brakes
BRENBO N1 Endurance 4POT Calipers 355mm Rotors
BREMBO 4POT Rear Caliper
APP Stainless Steel Mesh Brake Lines

Exterior
Late model HID projector lights
NISMO Front Bumper
NISMO Front Under Lip & Under Cover
NISMO Side Skirts
NISMO Carbon Fiber Flaps
NISMO Carbon Fiber Pillar Cover
NISMO Carbon Fiber Wing Flap Cover
WGNC34 Front Clear Turn Signals
BNR34 Side Turn Clear Lenses
NISMO LM-GT1 10J x 18+20 Wheels

Interior
NISMO Floor Mats
NISMO GT Titanium Shift Knob
NAKAMICHI Audio